Family is the essence of McCaskey Orthodontics. Most of the staff members on our team have worked here for well over twenty years. As a result of that tenure, they have formed special, unbreakable bonds - family bonds - that permeate every aspect of our office. When patients pass through our doors, they, too, become family. Patients feel it in the warm smiles that greet them and through the sincere interest our staff members have in their lives.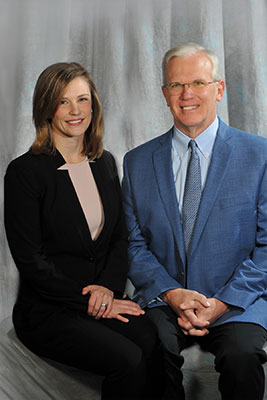 The family atmosphere created by our staff is unmatched.
We are blessed to have the BEST teammates at McCaskey Orthodontics!
---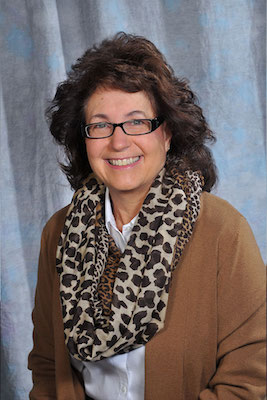 Kathy
Treatment Coordinator
Kathy has worked in the orthodontic field since 1979. After working in patient care for more than 25 years, Kathy took over as our treatment coordinator. She makes sure that our patients and their families understand their treatment options and helps to coordinate with their busy schedules when they begin orthodontic treatment. She orders office supplies, works with family dentists in the area to ensure coordination of care, and helps to make sure the annual "Beat the Winter Blues" parties are great fun for our patients and staff. Kathy is likely to be the first person you speak with when you call to schedule an appointment at any of our three offices.
Kathy enjoys spending time with her husband Jeff and their 15 nieces and nephews. She also loves to travel, with her favorite destination being Hawaii, where she and Jeff were married. In the fall, you will see her cheering for the Pittsburgh Steelers!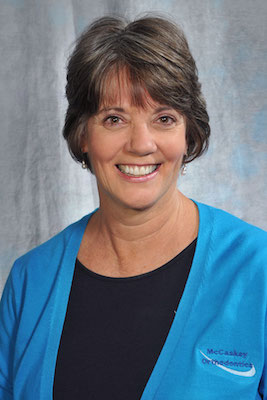 Corine
Clinical Supervisor
Corine is the clinical supervisor at McCaskey Orthodontics. She finds her work in our office both challenging and rewarding. Corine is a graduate of Butler High School and Butler Community College, where she received an Associate's degree in Elementary Education. Corine has worked in dentistry for more than 40 years and has worked in this orthodontic office for the past 20 years. She has enjoyed experiencing the technological changes that have occurred in the dental and orthodontic fields over the years, especially the new iTero digital intraoral scanner that has replaced impressions. You will meet Corine at your initial visit in our Butler and Saxonburg offices.
Corine and her husband Joe have three grown sons: Aaron, Dominic & his wife Erin, and Frederic & his wife Alyssa. They also have a handsome 85lb "granddog", a labrador retriever named Rooney that the whole family enjoys. Her favorite pastimes include walking, biking, gardening and traveling with her family. They especially love trips to Disney, as each family member is a crazy Disney enthusiast!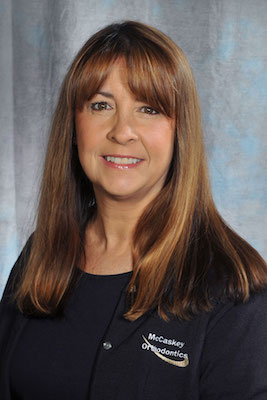 Jill
Orthodontic Assistant and Lab Technician
Jill has been in the orthodontic field since 1979. She started her career in Ohio and then traveled to New York City, where she assisted in an orthodontic practice for ten years. While she was there, she studied sculpting. Her interest in sculpting is why she enjoys fabricating most of the orthodontic appliances we supply to our patients.
Jill met her husband Frank in New York. Frank was selling fabrics to custom tailors around the country and now co-owns Frank Cicco Custom Tailors in Butler. They have two sons, Dante and Nico. Dante is studying computer science at Slippery Rock University, and Nico is studying criminology and playing lacrosse at Lincoln Memorial University in Harrogate, Tennessee. Jill enjoys watching the Pittsburgh Penguins, cooking, and taking care of their cat, Geno.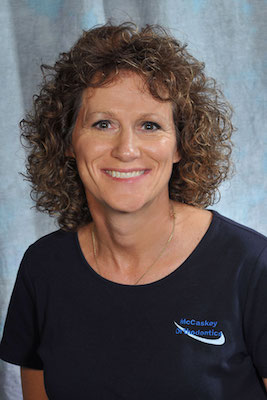 Kelly
Orthodontic Assistant
Kelly lives in Mercer. She attended J.H. Thompson Academy in Erie, and Slippery Rock University. Kelly has worked in the dental field since 1989. She has been a part of McCaskey Orthodontics since 1999 and enjoys the family atmosphere of our office. You will most often meet her at your initial visit in our Grove City office. However, Kelly is kind enough to help out in our Butler and Saxonburg offices as needed.
Kelly and her husband Graig have two sons, Bradley and Carson. She enjoys time with family, boating, camping, and watching sports. If you don't see her in the office, you will probably see her at a Mercer sporting event cheering on her boys.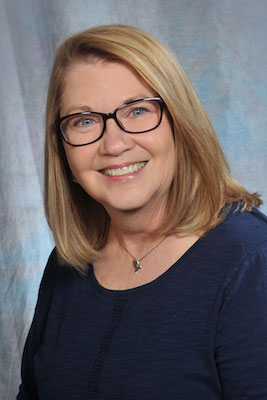 Pamela
Insurance Coordinator and Correspondence Secretary
Pam enjoys working with people and helping them to understand their benefits through their insurance companies. Her love of computers is helpful in compiling and writing our office newsletter and in the desktop publishing needs of the practice. She also assists in scheduling appointments. Pam has worked in this office since 1997 and has served in the dental field since 1981. She is originally from the South Hills of Pittsburgh and is a graduate of Baldwin High School. After graduation, Pam attended Averett College in Danville, Virginia, where she received an associate's degree in business.
Pam and her husband Jeff live in Prospect. They love animals and have three cats: Eddie, Chloe, and Affie. Pam enjoys being with family and friends, crafts, home remodeling and decorating, working in the yard, and especially summer pontoon trips on Lake Arthur.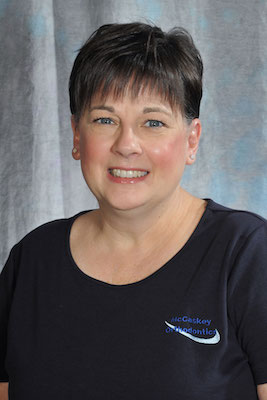 Lois
Orthodontic Assistant
Lois is an orthodontic assistant in our office with 25 years of experience in the orthodontic field and has completed her X-ray certification. Lois enjoys talking with our patients regarding their lives and interests and wants to make each patient feel special. She welcomes the hands-on nature of her work and enjoys seeing the final results! Along with the rest of our staff, Lois wants to make sure each patient has a positive experience during their time in orthodontic treatment.
Lois and her husband Ken reside in Butler. They have three daughters: Jennifer, Natalie, and Tess. They have been blessed with seven grandchildren: Bowen, Lacey, Lydia, Conway, Harlan, Tucker, & Haley. Lois enjoys boating, water skiing, camping, traveling, bicycle riding, and visiting her grandchildren.

Tracy
Orthodontic Assistant
Tracy has been an orthodontic assistant since 1998 and has worked for McCaskey Orthodontics since 2007. Tracy most often works in our Grove City office, but also helps out in Butler and Saxonburg when needed. Tracy loves interacting with the patients in our practice and is very comfortable with the family atmosphere here.
Tracy and her husband Rob have been married since 1995 and have lived in Grove City since 2005. They have a son, Matthew. In her spare time, she enjoys reading, gardening, and home improvement projects.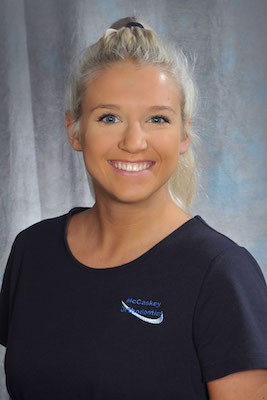 Macie
Orthodontic Assistant
Macie works with the McCaskey team as an orthodontic assistant. She began working at McCaskey Orthodontics in 2012 while she attended Butler County Community College. In 2016, she graduated with an associate's degree in medical coding and billing. As a teenager, she was a patient at McCaskey Orthodontics, and she remembers very well what it was like to be a patient in the office's unique atmosphere. "I enjoyed coming in as a patient then, and I enjoy coming in as an assistant now," she says.
Macie grew up in Meridian, where she currently lives with her family. In her spare time, you can find her working out at the gym, hiking a trail, riding a quad, taking care of her dog Trooper, or looking for a new adventure.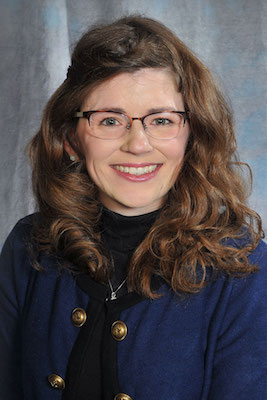 Anika
Office Assistant
Anika joined the McCaskey Orthodontics team in March 2012. She helps to support the office administrator and insurance coordinator. Anika publishes the online newsletters, confirms appointments, files and pulls charts, and helps to organize information for our office field trips.
Anika graduated from Butler High School in 2004 and earned a BA in business administration from Thiel College in 2009. She married her husband Jason in 2013. Together, they enjoy cheering for the Pittsburgh Penguins, participating in their local church, and spending time with family.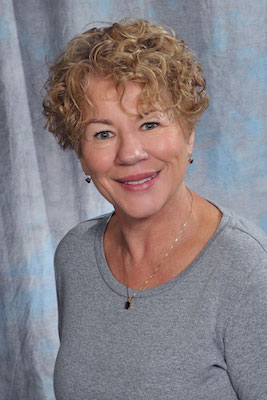 Linda
Insurance Coordinator
As a relatively new addition to our staff, Linda brings a varied history of customer service and insurance expertise to McCaskey Orthodontics. Linda has worked in several different settings and has developed vast knowledge in both medical and dental billing disciplines. Her recent experience has focused on the dental and orthodontic side of insurance billing services. Linda's time with Nationwide Insurance as a customer service representative gives her a unique perspective of the customer and provider exchange.
Linda lives in Butler with her husband Rick. Together, they have four daughters: Shauna, Brenna, Claire & Grace. Linda also has a grandson named Julian who is the light of everyone's life. She has two golden doodles, Chester & Nana (named after her daughter's favorite Disney movies) who greet her everyday. In her spare time, Linda likes to travel with her husband who flies their Beechcraft Bonanza airplane. She also enjoys reading & practicing yoga.